As part of UGC's Learning Outcome-Based Curriculum Framework (LOCF) for undergraduate programmes, the Delhi University decided to update the syllabi of several courses this year. The process began in January and many changes have been made since then. However, it seems like DU's curriculum row is not going to be resolved anytime soon.
According to the
Indian Express
, The UGCRC asked the English department to replace poet Meena Kandasamy with Premchand and Amitav Ghosh with RK Narayan. The commitee has also asked the department to remove any reference to the Indian People's Theatre Association (IPTA) and Jan Natya Manch.
The English department has refused to accept any of these changes. The Indian Cultural Forum supports this decision and celebrates the work that all of us—students, and all other citizens—must continue to read.
The following is the poem 'Touch' by Meena Kandasamy.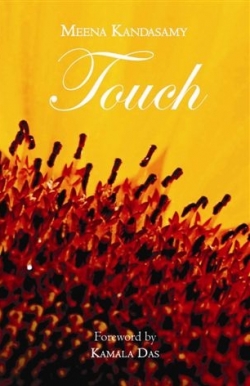 Image courtesy Goodreads
Have you ever tried meditation?
Struggling hard to concentrate,
and keeping your mind as blank
as a whitewashed wall by closing
your eyes, nose, ears; and shutting out
every possible thought. Every thing.
And, the only failure, that ever came,
the only gross betrayal—
was from your own skin.
You will have known this.Do you still remember,
how, the first distractions arose?
And you blamed skin as a sinner;
how, when your kundalini was rising,
shaken, you felt the cold concrete floor
skin rubbing against skin, your saffron robes,
how, even in a far-off different realm—
your skin anchored you to this earth.
Amidst all that pervading emptiness,
touch retained its sensuality.
You will have known this.Or if you thought more variedly, about
taste, you would discount it—as the touch
of the tongue. Or, you may recollect
how a gentle touch, a caress changed
your life multifold, and you were never
the person you should have been.
Feeling with your skin, was
perhaps the first of the senses, its
reality always remained with you—
You never got rid of it.
You will have known this.You will have known almost
every knowledgeable thing about
the charms and the temptations
that touch could hold.But, you will never have known
that touch – the taboo
to your transcendence,
when crystallized in caste
was a paraphernalia of
undeserving hate.
---
Meena Kandasamy is a Chennai-based poet, writer, activist and translator. Her work focuses on caste annihilation, linguistic identity and feminism.

Courtesy: Indian Cultural Forum