The JNU student community will elect a new student representative body tomorrow. The JNUSU election is happening at a critical juncture in the history of the university, where we witness an unprecedented assault on the education system in general and in universities in particular by the ruling right-winged BJP. The JNU VC, appointed to work for the BJP, is an example. The marginalized are facing institutional brutalities and manipulations at all levels under the BJP rule. The pertinent question now is how to fight and what should be the course of our struggle. In this context, the JNUSU election is not merely a mechanism for electing the representatives but a medium of an assertion of rights and dignity.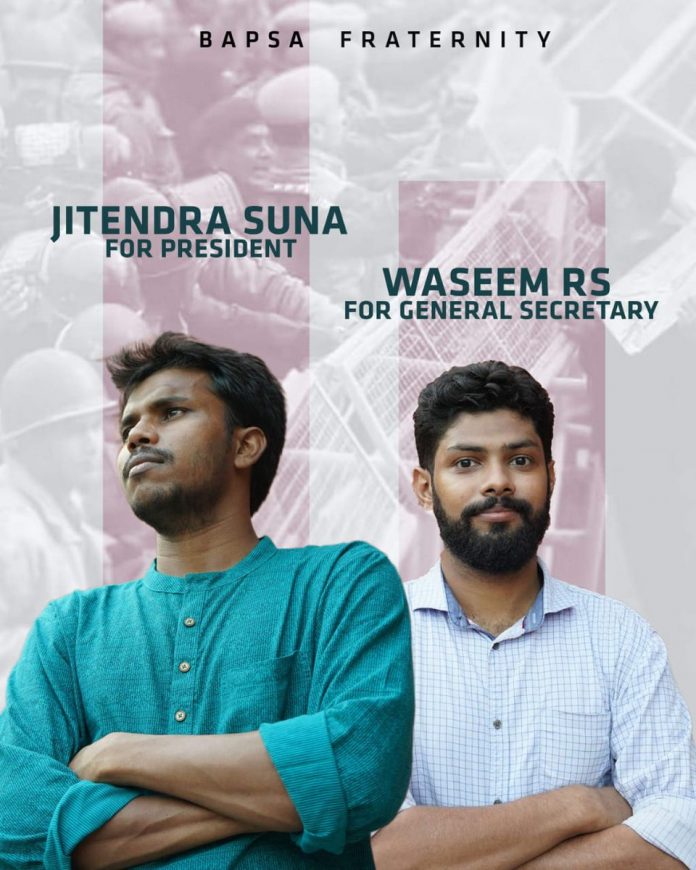 Image from twitter
The coming together of two prominent organisations in the JNU campus; i.e BAPSA and Fraternity Movement to contest the JNUSU Elections represents solidarity among oppressed identities and a call for a united struggle. Both the organisations have had a strong commitment towards fighting for the rights of oppressed identities in the University campuses and outside.  
From the protests against the institutional murder of Rohith Vemula to the struggle to trace 
Najeeb
 who was forcibly made to disappear; to struggles for various structural issues of oppressed communities like viva voce discrimination, flouting of reservations, discrimination in higher education and so on, both JNUSU(Jawaharlal Nehru University Students' Union) and BAPSA (Birsa Ambedkar Phule Students' Association) have fought together.  
In times of Hindutva Fascism, the oppressed are being routinely lynched and their voices are being muffled. The current regime is that of hate, contempt and oppression. In the name of caste, religion, communalism, cultural practices, food habits and so on, marginalised groups are being targeted. There are systematic attacks on the rights of the marginalised people — the Constitution which safeguards their rights is being subverted, the Parliamentary procedures and the spirit of the Constitution have been reduced to a joke. 
This can be witnessed through the way EWS reservations, abrogation of Article 370, Trans Persons (Protection of Rights) Bill, amendments to the UAPA, NIA, etc. have been passed. A fear psychosis has been created through mob lynchings with impunity accorded to killers and lynchers as well as patronage from the current regime. Tabrez Ansari was brutally lynched. Pehlu Khan's killers have been allowed to go scot-free. We have witnessed how 10 Adivasi farmers in Sonbhadra, UP were gunned down while they were fighting for their land.
 BJP/RSS combine has enabled, protected and supported rapists in the Kathua and Unnao cases. In such dark times where we are witnessing mass silencing of Kashmiris and their aspirations, lynchings that do not ever find justice, introduction of NRC, amendments to UAPA and the NIA act which will further place Muslims and other marginalised under the shadow of "terror", Trans bill which violates human dignity and rights to trans persons, the oppressed need to unite and reclaim their rights and dignity themselves. 
Similar issues happening in the University campuses have also become battlegrounds for marginalised students to assert their rights. The Dalit and Muslims students on university campuses are facing perpetual threat and harassment when they ask academic questions on issues of social justice, or when they demand their fellowship. 
In a nutshell, the university space is hostile to those who are victims of face hate crimes and oppression by the state. The so-called progressive groups on university campuses have either remained mute spectators or have appropriated and patronized marginalised voices. In stark opposition to the politics of hate and mob lynching of the right-wing as well as the politics of appropriation and patronisation of the Left-wing, organisations like BAPSA and Fraternity Movement stand firm in their commitment to the politics of oppressed by the oppressed.  
We have seen in the recent past, how the unprecedented attack on the admission policy of JNU caused large sections of students to be deprived of admission on the pretext of the UGC
 Gazette
. 
The UGC Gazette was defeated by the united struggles of students, wherein BAPSA took the lead in resisting the draconian Gazette both on campus as well as outside through recourse to legal action. 
This year, the University administration resorted to another tactic during admission, where they arbitrarily increased the intake of students to an extent that infrastructural lack and hostel availability are again threatening students, especially from marginalised communities. The lack of infrastructural and hostel facilities means that students coming from socio-economic margins will be forced to drop out of higher education. 
This year again there has been rampant discrimination in viva voce during M.Phil. and PhD admission procedures where students from marginalised communities have been given 3, 2, 1 and even 0.25 marks out of 30. These measures are nothing but different ways of targeting these students. OBC communities, while being in largest numbers, have the least representation in universities like JNU and other educational and public-private institutions. There has been gross negligence in implementing the OBC reservation in JNU faculty recruitments where the Left has been in power for over 40 years. 
The same Left parties could not play an active role, neither in finding Najeeb nor in punishing the ABVP cadres, the RSS-affiliated Students' body, but moreover their complicity in accusing Najeeb as the 'criminal' made things more favourable for the culprits.
The BAPSA – Fraternity Movement Alliance is contesting in the posts of President and General Secretary as well as in School Counsellor positions. Jitendra Suna -the Presidential Candidate- is a Research Scholar at Centre for the Study of Discrimination and Exclusion (CSDE). In 2009, he worked as a helper with Indraprastha Gas Ltd (IGL) in the capital, fitting gas pipelines, fixing stoves and digging roads in case of pipe bursts. He belongs to Ganda (Dom) Caste of Dalits from Pourkela village in the backward Kalahandi district of Odisha. 
Waseem RS – Candidate for General Secretary Post – is a PhD Research Fellow at the Centre for the Study of Law and Governance. He completed M.Phil on UAPA cases in Kerala and currently working in the topic 'Law and Literature in Novels". He belongs to OBC Mappila Muslim community of Kozhikode, Northern Kerala. He is the first generation researcher from his community, thanks to the implementation of the Mandal Committee Report in 2006. He is a leading figure in the protests for justice for Rohit Vemula and Najeeb Ahmad. He is former National Secretary of Fraternity Movement.  
BAPSA-Fraternity Alliance
 candidates are also contesting for councillor posts in SIS (Hirok Jyoti Ray, Praveen Bharti, Umar Faruk M), SSS (Amisha Singh, Mungamuri Kranthi Kumar, Sonali Kale), SLL & CS (Afreen Fatima) and SAA (Aakanksha Aditi) Schools.
BAPSA and Fraternity are striving to create an alternative discourse which goes beyond rhetoric and to wage struggle on the ground. Their coming together represents a step in forging a unity of the oppressed. This solidarity is based on the need to forge a larger unity of oppressed communities who are facing discriminations and oppression on grounds of gender, language, caste, race, religion, region, colour, and class. 
While analyzing the dubious Left Unity during JNUSU elections, Jadumanilion Mahanand opines that "the Left has created the binary of class and caste, and that caste is under the carpet of class. Caste is a social-political capital to perpetuate Brahminism, which in other words can be termed as "Caste Capitalism". Jitendra Suna (the Presidential Candidate) is the real proletariat fighting against Brahmanism, class inequality, and gender justice. Only a person who has experienced humiliation and exploitation of caste and class can be a genuine and authentic representative of a movement against a hegemonic State." 
This alliance has a historical precedence as Waseem RS, the General Secretary Candidate observed in his Debate, that "it has been developed through the ages from the mutual support of Savitri Bhai Phule and Fatima Shaikh, Ambedkar and the Muslim League, the Mandal Commission Movements, Abdul Nasar Madani's activities, the united solidarity of Prakash Ambedkar and Asadullah Owaisi etc,." In the backdrop of overwhelming victory of NDA for the second term during the Parliament elections, this student-level alliance will provide much more open and flexible political formulas for the marginalized communities across the Indian political sphere.  
Author Info: Hisham ul wahab P is a Research Fellow, Centre for West Asian Studies, Jawaharlal Nehru University, New Delhi. He can be reached at:

[email protected]

Courtesy: Two Circle