Till October 2019, over 2.5 crore applicant households were turned back when they sought work under the rural job guarantee scheme.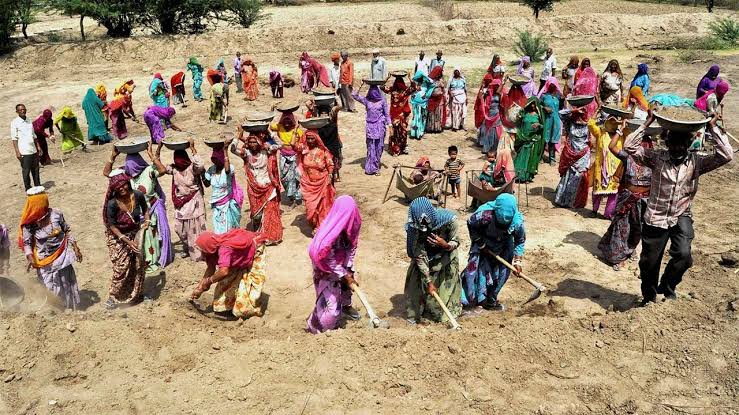 It would have seemed natural – indeed, imperative – that, as India grapples with a deadly slowdown, with agricultural economy growing only at around 2% and rural joblessness hovering at a shocking 8%, the government would infuse some energy in the implementation of the rural jobs guarantee scheme (MGNREGA). This would put more money in the hands of rural poor and not only help them survive this crisis but it would also give a fillip to the economy as a whole.
However, quite the reverse seems to be happening. Latest data available on the official MGNREGA website shows that till October this year, a staggering 2.51 crore households were refused work under the scheme despite having demanded it. That means 19%, or about one in five of all those who came looking for work in the scheme, were turned back. Over 13.2 crore households
demanded work
(which is a record in itself) as per official records while 10.71 crore
were provided work
.
This is the highest rate of refusal in recent years, as can be seen in the chart below. In fact, the sharp increase in refusals in the current year is striking. It is almost a 33% increase over last year.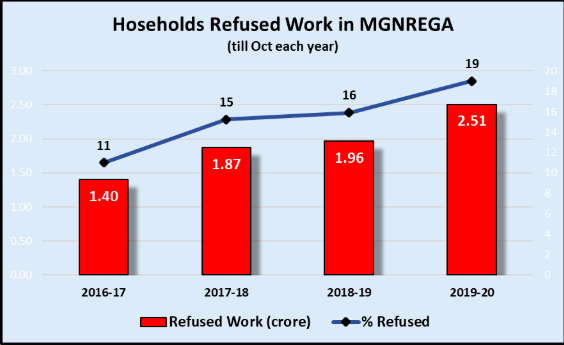 A state by state analysis shows that Andhra Pradesh (AP) and Telangana lead all other states in refusing work. In AP, some 61 lakh households were turned back, that is, 35% of all who applied. In Telangana, nearly 24 lakh refusals are recorded, 32% of all applicants. 
Other states with such significant turn-backs include Haryana (28%), Bihar (26%), Karnataka (21%), Uttar Pradesh and Chhattisgarh (20% each), Punjab (24%) and Gujarat and Rajasthan (18% each). 
Funding Collapse
While Central fund releases are slightly less than usual till this time of the year, this squeeze has been aggravated by low releases from state governments which contribute 10% of the funds. This year, the Centre had released Rs.51,950 crore till date out of the total Central allocation of Rs.60,000 crore for
MGNREGA in the Union Budget
. That's about 86% of the total budget kept for the scheme. Another five months are left in the year and how the scheme is going to be implemented henceforth is anybody's guess. Remember that this year's MGNREGA allocation was Rs.1000 crore less than last year's Revised Estimate of spending. So, this year, the scheme was handicapped from the start.
But the worrying part in the financial statement till date is this: states seem to have released much less than would be expected and till date, no opening balance is being shown for any of the states. All are starting off with zero opening balance.
Last year had ended with states put together in the red for about Rs.3716 crore. That means liabilities or dues amounting to that much were pending last year. This happens every year because of the tight-fisted policy of Central govt. So, this amount too would have been settled first from this year's releases, whether Central or State.
But 'zero' opening balance (OB) is bizarre. Last year, the aggregate opening balance for all states put together was a hefty Rs.2064 crore. Either there is some accounting issue, like non-submission of utilisation certificates or some other imbroglio.
Unspent Funds & Pending Payments
But the real reason why money is not being spent – which is reflected in high refusal rates – seems to be that states are holding on to funds due to a general funds crunch emanating from the economic slowdown. This could be because the Centre has advised them to be tight fisted, or it could be their own thinking. 
Whatever be the case, all states put together have an unspent balance of over Rs.12,546 crore and pending dues of Rs.5428 crore till date. Clearly, spending is being very tightly restricted. And, this is happening whether it's a BJP govt. or a Congress govt. or even one of the regional party's govt. at the state's helm. 
This unfortunate state of affairs should be seen in the context of the fact that this year, precisely because of the slowdown, demand for work has increased much more. Recent floods and destruction of crops has also caused a spike in demand for MNGREGA work. Yet the govt. is failing to step up. In fact, motivated by the neoliberal dogma of squeezing govt. funding, less funds are being spent. This means more misery and distress for common people – and the situation will worsen in the coming months.
Courtesy: Newsclick.in