When Adarsh Kumar Aniyal gave the title 'A story of an Indian' to his music video titled 'Raven', he did so with all sincerity and honesty.
What he tells through this video has been happening in the country for quite a long time, only that now people like Adarsh have come up to raise their voices through art. It is also interesting to note that such a strong art form of protest has come from Vypin in Ernakulam), the land of Sahodaran Ayyappan, the legendary anti-caste and reformation leader in Kerala.
'Raven' has a dark-skinned middle-aged man narrating the story of the missing of his son – 'the son who was tall and lean with long red-coloured hair' – at a time when sons gone missing have become common in the country. There is not a single point in the life of a Dalit that the video doesn't touch – be it the colour of skin or bodily features, caste, politics, reservation, economic difference, fashion etc.
The sad and helpless father who complains about his missing son in the first scene soon turns to a strong and assertive person, bent on explaining why his son went missing. He recalls that his son was mocked for his physical features, for wearing good clothes, for his long coloured hair, for claiming reservation and receiving grants in school. Though he doesn't explicitly mention who took away his son, he says that the investigation underway is for namesake only as 'it is only my son who is missing and not the cow of kovilakam (manor of high caste)'. While he wears white clothes in the beginning, the father recalls that his son brought changes in his outlook and changes to black with sunglasses towards the end, vowing to grow his hair long and colour it red.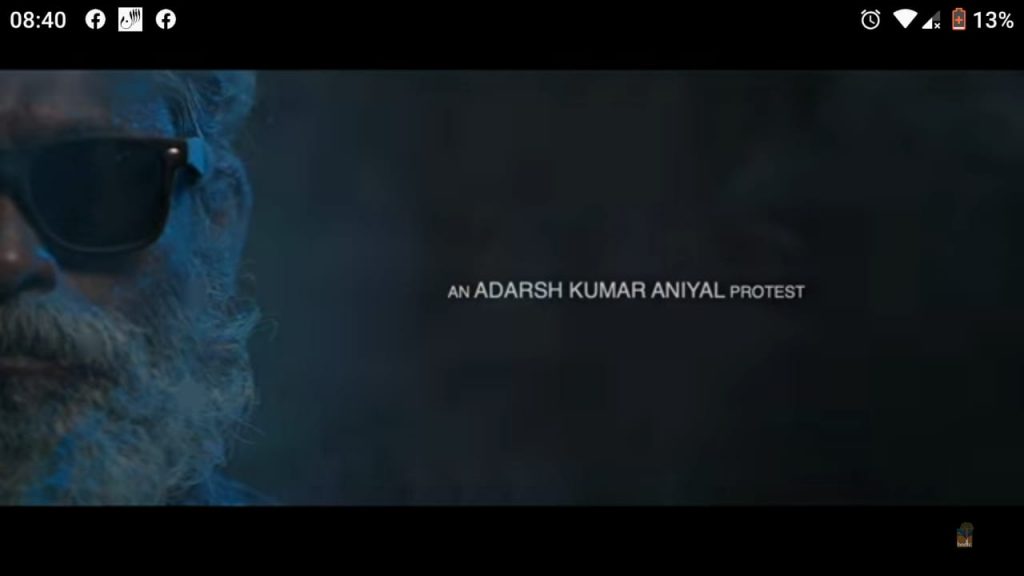 The story reminds of an incident that happened a few years ago in Thrissur district. A Dalit boy named Vinayakan, who had long coloured hair, was allegedly picked up by the police and brutally tortured. After release, the boy committed suicide reportedly due to the inhuman torture that he had to suffer. However, Adarsh, while talking to TwoCircles.Net, said that particular incident need not have been the first of its kind, "though that is the one we came to know." He also recalled the infamous murder of Kevin Joseph, a Dalit Christian. Kevin and Neenu Chacko decided to get married against the wishes of Neenu's family, which allegedly led to the murder of Kevin by Neenu's brother and friends. Neenu stood firmly with Kevin's family to get justice and the Kottayam Principal Sessions Court gave double life sentence for 10 found guilty in August 2019.
Ambujakshan, who acted in the video, also recalled Madhu, the tribal youth who was lynched to death for allegedly stealing.
Ambujakshan, who acts in the video is Adarsh's father. He used to act in plays and perform 'kathaprasangam' (a performance including speech and songs) earlier. He expressed his happiness in being able to act in a project directed by his son, which, 'only very few people get an opportunity for'.
"We should think for ourselves as to who we are. The scar inside ourselves should be erased to change what we experience outside. Change can't be brought by laws alone, but rather we should change our outlook first. Art forms like this, along with literature etc help in giving this message to the people," he said.
The veteran folklore artist stressed on the role of social media in bringing such art forms and protests to people/audience faster and easier in the modern world. Ambujakshan's father Kumaran also was a renowned folklore artist, who was incidental in including the art form 'Parichamuttu' in school youth festivals.
The video also shows the statues of Mahatma Ayyankali, the renaissance leader who fought to uplift the lower castes in Kerala, and Dr BR Ambedkar. "We are talking for those marginalized in the name of caste, wealth, religion, politics etc, and so we cannot avoid these great leaders," said Ambujakshan. The title of the video is 'Raven' which is now widely read as 'Ravan' too, the mythological Asura/Dravida king who fought against Sri Rama.
The resemblance of the video to the 2012 hip-hop video 'Native Bapa' (
https://www.youtube.com/watch?v=opnMreZoRyQ
) directed by Muhsin Parari is very evident. Having been influenced by the video released six years ago, Adarsh shared 'Raven' with Parari via friends even before meeting him in person. Parari and Zakariya Muhammed (director of 'Sudani from Nigeria') were among the first to share the video on Facebook.
A graduate in English literature, Adarsh used to do plays for kids and has worked as an assistant director in two films. He had worked earlier with Subrahmanian of Thousand Stories Production, who decided to associate with this work in production along with Pramod Vazhoor and Rajesh Nethaji. "This project would not have been fulfilled if Thousand Stories hadn't taken this up," recalled Adarsh.
With strong lyrics written by Adarsh, apt music by Bibin Asok, art direction of Vishnujith Ajith and exemplary performance by Ambujakshan, the video released on September 14, 2019, is already a hit on the social media. Encouraged by the success of the video, Adarsh vows to do more works like this. "It is important to tell stories. I told one now, and will tell more in future."
Courtesy: Two Circles