The Sangh Parivar's 'relief' work is aimed at building a Hindu Rashtra, says a new book.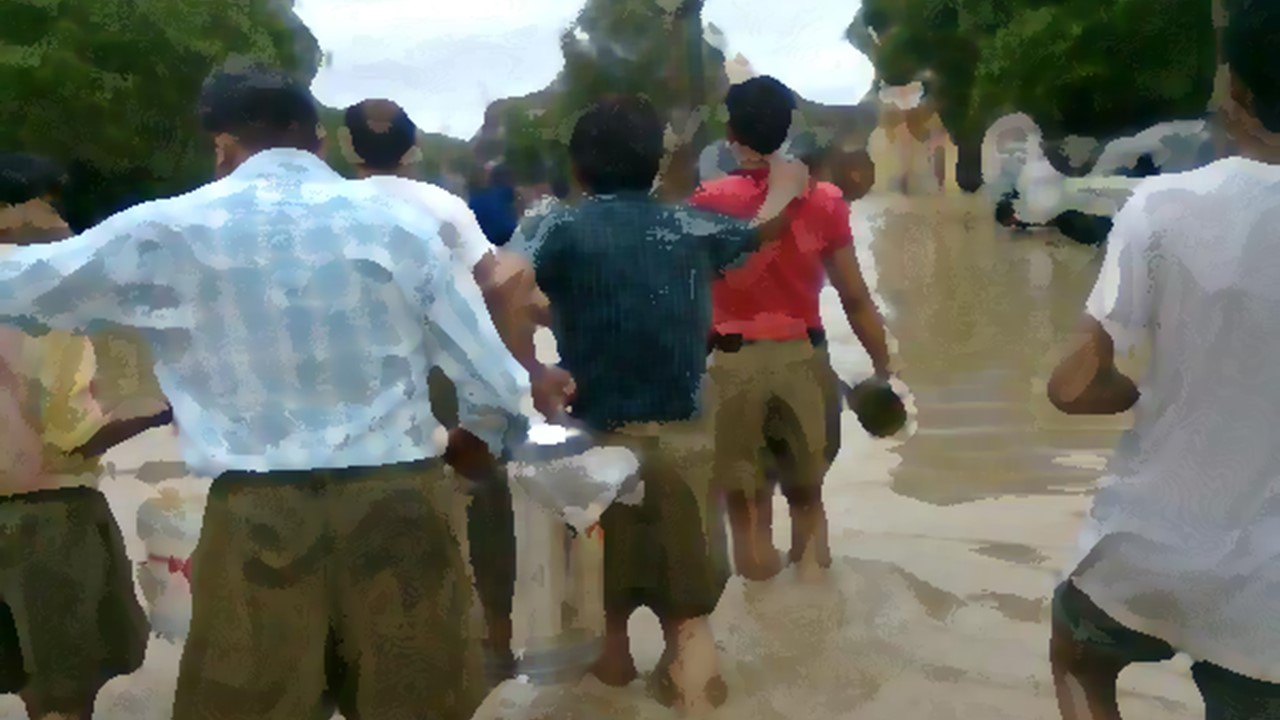 Representational image. | Image Courtesy: Twitter
When a devastating earthquake rocked Gujarat on January 26, 2001, the Rashtriya Swayamsevak Sangh (RSS) rescued people trapped under the debris of collapsed buildings, cremated the dead, and established kitchens to provide free food to those rendered homeless overnight. The RSS subsequently reconstructed a clutch of villages to rehabilitate their residents. The Sangh's humanitarian assistance during the 2001 earthquake still remains deeply inscribed in popular memory.

Eighteen years later, the one-dimensional narrative extolling the Sangh's exemplary role has been challenged by Malini Bhattacharjee, who teaches at Azim Premji University, Bengaluru, in her book, Disaster Relief and the RSS: Resurrecting 'Religion' through Humanitarianism.

Bhattacharjee says the Sangh replicated the traditional social hierarchy, including the principle of exclusion, in reconstructed villages and architecturally emphasised their Hindu identity. Her description of these villages makes them appear as miniature versions of a Hindu Rashtra, so to speak. Yet, the Sangh consciously crafted a narrative to project its relief work as non-discriminatory or secular in nature.

Bhattacharjee stumbled upon these aspects of the Sangh's relief work on her study trip to Kutch district in Gujarat, 11 years after it had been severely damaged in the earthquake. Her purpose was to study the resonance that the Sangh's seva, or social service, activities have for the people who benefit from it. In the Hindu tradition, seva is supposed to be selfless. This isn't the case with the RSS. Bhattacharjee writes, "Seva, like all other institutions within the Parivar, is not an end in itself, but a means to an end, that of creating a strong Hindu Rashtra, through the awakening of Hindutva."

The Sangh sought to boost its image by trumpeting its humanitarian assistance in the booklets it issued. One of these, Punah Nirman Chunouti, spoke of over "20,000 volunteers, many of whom had lost family and friends in the earthquake," spontaneously assisting in rescue operations. The Sangh's publications featured accounts of RSS volunteers about their experience in doing seva and harped on how their work altered the popular perception of the Sangh in Gujarat.

For instance, the Organiser, an RSS weekly, quoted an orthopaedic surgeon saying that he had earlier thought the RSS and its affiliate, Vishwa Hindu Parishad, were merely interested in "temple construction", perhaps a reference to the Ram Janmabhoomi movement to build a Ram temple in Ayodhya. The surgeon said he had revised his opinion of them after "witnessing their remarkable relief work."

Accounts in party organs are impossible to verify for anyone. In the main, though, Bhattacharjee reports people fondly reminiscing about the Sangh's relief work. She quotes a Congress leader from Ajnar, Kutch, saying, "Despite my reservations about the Sangh, I must admit that they did phenomenal work in providing rescue and relief post the earthquake."

The Sangh sought to emphasise the non-discriminatory nature of its humanitarian assistance during the earthquake. For instance, a pamphlet, Dharatikampanesarjano sad, or 'Responding to the earthquake by reconstruction', narrated an incident in which Muslim families in a village turned away volunteers from their community as the RSS had already provided relief to them. It is psychologically revealing of the RSS that it should be crowing about providing assistance without discrimination, which most will consider as an aspect of their being. Then again, Bhattacharjee was repeatedly told by Sangh activists about the eight houses allotted to Muslims in Chapredi, a Kutchi village they had reconstructed, to emphasise the secular nature of their seva.

Yet these stories were contradicted by media reports and Bhattacharjee's interviews with people. There were accusations against the Sangh Parivar, voiced, among others, by the late journalist Kuldip Nayar, for not organising relief camps in areas inhabited by Muslims and dalits. A report in the Milli Gazette, then a "Muslim fortnightly", alleged that Muslims were asked to chant 'Jai Swami Narayan' and 'Jai Sri Ram' before they were given food at the Swaminarayan Temple, from where the largest community kitchen in Bhuj, a town in Kutch, functioned.

The ambiguity regarding the non-discriminatory nature of seva evanesced in the villages that the Sangh adopted for reconstruction. The restored villages conformed to the traditional Hindutva vision of creating a self-conscious Hinduised society that is hierarchical, discriminatory and exclusionary.

Altogether, the Sangh adopted 22 villages; 14 of these were reconstructed by Sewa Bharati, the operational wing of the RSS for providing social service in partnership with Sewa International. The remaining eight had the American wing of the Vishwa Hindu Parishad (VHP) as Sewa Bharati's partner.

Bhattacharjee visited three out of the 22 villages—Chapredi, Mitha Pasvaria and Lodai -- all located in Kutch district. Hindus dominated each, with ahirs being the dominant caste group, followed by dalits. Muslims constituted less than 10% of the population in Chapredi and Lodai. Mitha Pasvaria did not have a Muslim. Already boasting a strong base in these three villages, the RSS "galvanised support [in these villages] to drive away Christian NGOs," Bhattacharjee says.

Reconstruction was initiated in Lodai with a bhoomi pujan ceremony, which was attended by Praveen Togadia, the former VHP president, and Suresh Mehta, a former Gujarat chief minister. A feast was organised for 10,000 villagers, during which Lodai was renamed Keshav Nagar after Keshav Baliram Hedgewar, the founder of the RSS. Likewise, Chapredi was given the new name of Atal Nagar, after Atal Bihari Vajpayee, the then Prime Minister, who attended the bhoomi pujan there.

The bhoomi pujan at Mitha Pasvaria was attended by KS Sudarshan, the then RSS chief, who extolled the virtues of Hindu culture in his speech. Bhattacharjee writes, "Sudarshan criticised the growing tendency of blindly following Western culture and called for the need to recognise the inter-relationship between humans, animals, birds and trees which had been earmarked by Hindu forefathers as vehicles to our deities," Bhattacharjee writes. It was a typical example of the Sangh's supremacist tendencies.

In Atal Nagar and Mitha Pasvaria, the newly-constructed houses were of three different sizes. Their allocation was linked to the quantum of land that families owned—the biggest houses went to those with large landholdings; the smallest to families with little or no land. Although the houses were given free to occupants, yet the Sangh chose to replicate the existing economic inequalities. Lower castes were bunched together, leading to their segregation from others. Ghettoised housing was also planned in Mitha Pasvaria, but protests from Dalits prompted a decision to allocate houses through a draw system.

Both Sewa Bharati and the VHP gave a distinctive Hindu character to the three villages. Grand entrance gates to the villages were constructed. Since the ahirs, the dominant caste group, worship Lord Krishna, his statue was installed atop these gates. Ostentatious gaushalas, or cowsheds, were built, largely because, as Bhattacharjee suggests, "the protection of cows is an important political agenda of…the Hindu right." The boundary walls of houses were inscribed with the images of Hindu gods and goddesses, in sharp contrast to the original settlements having been devoid of Hindu iconography.

When the time came to inhabit reconstructed villages, none of Lodai's Muslims shifted to Keshav Nagar. In Atal Nagar, only eight Muslim families of Chapredi were assigned houses. None of the Muslim families in the two old villages spoke about a deliberate attempt to exclude them from the new settlements, which had effectively become, to quote Bhattacharjee, "Hindu hamlets." They merely said they did not want to leave their old houses as these had survived the earthquake. In Lodai, some Hindu families, too, had decided against shifting to Keshav Nagar.
Bhattacharjee, however, found the decision of Muslim families to stay back in old villages at variance with the norm in settlements that non-Sangh donors had reconstructed. She points out, "While some villages built by non-Sangh Parivar donors have retained the earlier pattern of segregated housing based on caste and religion, none of the village communities 'opted' to stay outside the new colonies. This reinforces the possibility that the villages built by the Sangh Parivar were conceptualized as Hindu villages, the actualization of which made the Muslim community reluctant to move in."

The conceptualisation of new villages as Hindu spaces was most evident in the construction of grandiose temples, four in Keshav Nagar, two in Atal Nagar and one in Mitha Pasvaria. The older villages, too, had temples, but these were modest in comparison. Atal Nagar did not have a mosque, although there were eight Muslim families residing there.

RSS volunteers told Bhattacharjee that Sewa Bharati had conveyed to Muslims that a mosque would be built in Atal Nagar subject to all of them shifting from Chapredi. They did not and, therefore, the absence of mosque from Atal Nagar. The Sangh's explanation was "not validated" by Atal Nagar's Muslims. And to think, Chapredi was touted as an example of the Sangh's non-discriminatory approach to humanitarian assistance!

The Sangh may not have spawned the religious and caste ghettoisation, but it did, according to Bhattacharjee, aggravate it further. "Sangh Parivar activities [during relief and rehabilitation] did not intend to disrupt inequalities as this would be counter to its wider political goals inspired by a traditionalist vision of Hindu nationalism," Bhattacharjee concludes. The caste hierarchy, in other words, was not to be flattened.

Local RSS functionaries told Bhattacharjee that the organisation's membership saw a sharp upswing across Kutch because of its role in providing relief during the earthquake. But shakha activities, they confessed, could only be sustained in the villages they had reconstructed. Perhaps living in miniature versions of a Hindu Rashtra deepened the relationship between the villagers and the RSS. Or the villagers were tied to the RSS by the knots of obligation and reciprocity. Either way, seva has more uses for the RSS than just salvation.

Courtesy: Newsclick.in