Abhishank Pal dreamt of being a police officer one day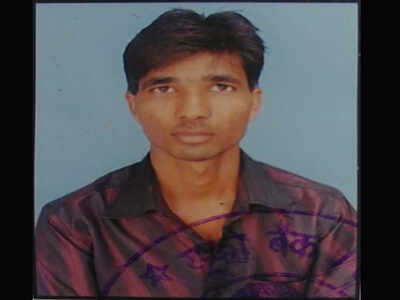 Image Courtesy: TOI
Two suspects
have been arrested
over a recent incident in which a Dalit youth was set ablaze allegedly on account of his relationship with an upper caste Baniya girl.Bhadaicha, the village to which the deceased youth, Abhishank Pal
belonged
, is located 10 kilometres from Hardoi town. The village has an approximate population of 5000 with the Thakur and Baniya communities dominating the population.
It has been nine days since the incident. Two of the five accused, identified as Satyam Singh and Shikhar Singh were arrested on September 19. The investigating officer in the case, Vijay Kumar Rana said that the two youth were arrested from near the Hardoi railway station. After he was set ablaze, Ajay Patel, Abhishank's uncle had approached the police to file an FIR.
Abhishank Pal was a 23 year old resident of the village and was famously compared to ViratKohli for his cricket shots. Belonging to a Dalit family, he nursed dreams of getting educated and applying for a police job. He believed that such a job will give him power and influence and minimize the effect of caste discrimination and government apathy.
His parents, sharecroppers Mithilesh and Rambeti, were
worried
about their son spending too much time on the field. Good at studies and diligent at work, he was their one hope to haul the family out of poverty.
Almost all of the village was aware about his five year old relationship with Shivani Gupta, a 21 year old Baniya girl. Once, when they tried to elope, they were brought back to the village and reprimanded by the village council.
Police investigation revealed that despite hostility from her family, the relationship carried on in a clandestine manner. This proved to be fatal for Pal.
In the early hours of September 15, reportedly, three members of the Gupta family and two other upper caste men
got hold
of Pal, locked him in a room and tied him to a cot and set him on fire. Hours later, Pal's charred body was found by passers-by who reported the fire. It is unclear whether he died on his way to the hospital.
His ailing mother, Rambeti, on hearing upon his demise
, also passed away
. This murder was another in a long list of caste based crimes against Dalits in UP which records one such crime every hour!
In one version of the incident, according to the police, Abhishank had gone to Shivani Gupta's house to meet her but her uncle and aunt saw them. They allegedly locked Abhishank in a room and raised an alarm, after which, a mob gathered outside the house. Abhishank panicked and set himself on fire.  However, a police officer familiar with the
case said,
"All evidence and statements proved that Abhishank came to Shivani's house on her invitation. If what the victim said is true then why did Gupta accept that they had killed him in a fit of rage after seeing him with Shivani?"
"Gupta, who is woman's uncle has accepted that he could not control his anger after seeing Abhishank (victim) with his niece in her room," said the
police
. Interestingly, the accused statement is in contradiction with the complainant's story, which said Abhishank was stopped by two village youth, Satyam Singh and Shikhar Singh, when he was coming to a hospital for his mother's treatment after taking money from home.
Ajay Pal Singh, victim's uncle on whose complaint an FIR was lodged
said
, "He had a scuffle with them and they took him to Gupta's house and burnt him alive". Victim Abhishank in his dying statement had also told a similar story. Before he was referred to Lucknow hospital, Abhishank told his family members that he had an altercation with Satyam and Shikhar at Gupta's shop when he was returning from home.
The police have registered a case under relevant sections of the Indian Penal Code (IPC) and the SC/ST (Prevention of Atrocities) Act. Shivani Gupta's uncle Radhey Gupta and her aunt Daali Gupta have been sent to judicial custody.
A
ground report
published in Hindustan Times notes the situation in the village, "But people in the Dalit settlement say the caste gap is wider than ever and despite the gruesome crime, few upper-caste families came to the Pal household to console the family. "They won't come inside our house. Especially after this incident, that gap has widened,"
said Arjun Pal
, a local resident. News of the crime has sent ripples of anger through Dalit communities. "There is a lot of anger and resentment," said Kumar."
UP has a high number of crimes related to caste. According to the National Crime Records Bureau report for 2016, the state has the highest number of crimes against the Dalit (SC) communities. The state also records higher number of convictions compared to other states. Possible reasons being the political mobilisation with parties such as BahujanSamajwadi party, but also smaller organisations, activists and others. The second can be attributed to the growing awareness and aspirations of the Dalit youths. However, attitudes are yet to change.
Related Articles:
https://sabrangindia.in/article/caste-slur-bjp-state-minister-against-vaddars-threatens-snowball-karnataka
https://sabrangindia.in/article/notice-ugc-govt-caste-prejudice-sc
https://sabrangindia.in/article/dalit-man-brutally-killed-allegations-stealing-pump-rajasthan
https://sabrangindia.in/article/part-1-must-read-books-regional-indian-languages
https://sabrangindia.in/article/whos-afraid-word-dalit