Outrage across Bangladesh and social media on government's failure to check increasing number of cases of sexual assault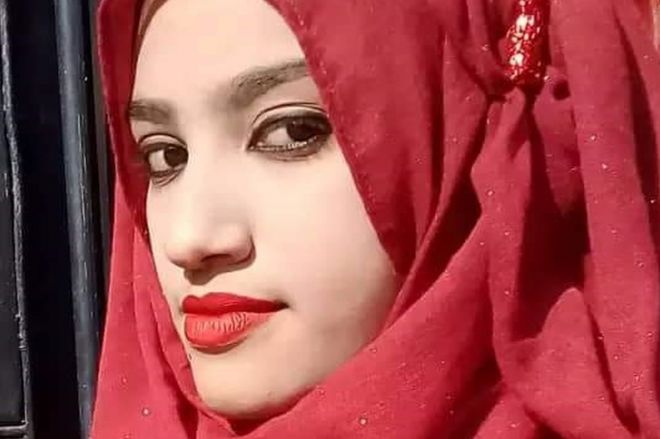 The murder of a Bangladeshi young girl for reporting sexual harassment has once again thrown the spotlight on the uncomfortable questions and stigma around sexual harassment in South-Asian countries.
Nusrat Jahan Rafi
was
from a small town, came from a conservative family and went to a Madrassa for studies.
Nineteen year old
Nusrat
was called to the headmaster's office on March 27. The headmaster touched her inappropriately at various places, as per her testimony. Before anything else could happen, she ran out.
When she went to record her complaint at the local police station, instead of being provided with a safe environment, the officer in charge reportedly
filmed her testimony
. In the video, Nusrat
can be seen
feeling distressed and uncomfortable and she is trying to hide her face. The officer trivializes the incident saying it's "no big deal". Later the video was leaked to the local media.
The police then arrested the headmaster, after which things went downhill for Nusrat. Some boys reportedly
supported by local politicians
staged protests on the streets demanding the headmaster's release.
The situation remained tense for several days afterwards. However, as the final exams had approached, Nusrat reportedly went to
attend the exam
on April 6, 11 days after the incident of sexual assault.
As
per a statement
by Nusrat, a fellow female student took her to the roof of the school by telling her that one of her friends was being beaten up. On reaching the rooftop, Nusrat reportedly saw four-five people wearing burqas trying to pressurise her to take the complaint back. When she refused she was reportedly set on fire by these people.
Sustaining burn injuries over 80 percent of her body, Nusrat died after four days in hospital on April 10. Thousands of people turned for her funeral in Feni.
As Nusrat was being taken to the hospital after she was set alight,
she recorded
a statement on her brother's mobile phone fearing she will not survive. In the statement she can be heard saying, "The teacher touched me, I will fight this crime till my last breath."
She also identified some of her attackers as students at the madrassa.
The principal "told them to put pressure on Rafi to withdraw the case or kill her if she refused", senior police superintendent Mohammad Iqbal, who is leading the investigation,
told AFP
.
The police have reportedly
arrested 15
people seven of whom were directly involved with murder. Among those arrested are two male students who studied in the same school and had organised the protests in defense of the headmaster. One of them has also
admitted
about his grouse against Nusrat for refusing her advances.
Prime Minister Sheikh Hasina vowed that "none of the culprits will be spared legal action"
Outrage gripped social media as rights groups
said
the number of rape and sexual assault cases has increased in Bangladesh because authorities have failed to prosecute attackers.
According
to women's rights group Bangladesh Mahila Parishad, there were 940 incidents of rape in Bangladesh in 2018. But researchers say the real number is likely to be much higher.
Though in 2009, the country's Supreme Court passed an order to establish sexual harassment cells in all educational institutions, few have been reported to comply.