Medha Patkar who along with 6 others was on a hunger strike to support thousands of people affected by the sardar sarovar dam, ended her 9 days long strike after written assurance from the MP Chief Minister Kamal Nath.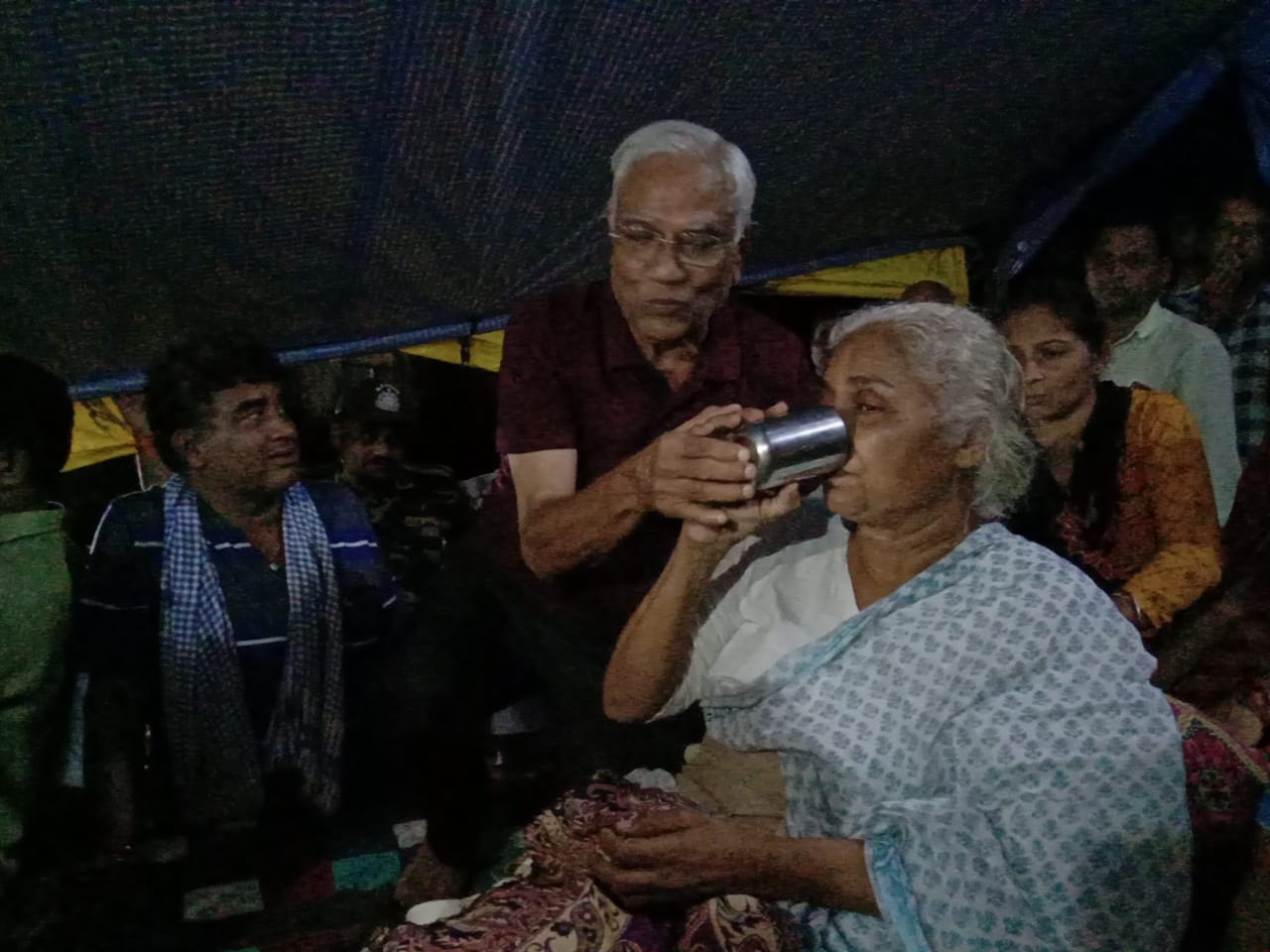 S C Behar, emissary of the CM offering lemon juice to Medha Patkar to end her fast (Image: Twitter)
The Chief Minister, requesting Medha Patkar to break her fast, mentioned in his statement that the Sardar Sarovar is an inter-state project, with Madhya Pradesh, Maharashtra, Rajasthan and Gujarat as the party states. Therefore, decisions cannot be taken by any one state alone.
Rehabilitation processes will be implemented according to the decisions of the Narmada Water Dispute Tribunal (NWDT).
He has also assured that displaced persons' rights will be protected; measures for their rehabilitation and compensation will be awarded to all the eligible families after receiving the amount from Gujarat the other concerned state.
Medha Patkar, leader of Narmada Bachao Andolan. Who was fasting from August 25, was also demanding the sluice gates of the dam be opened as many villages have been flooded with the back waters of the reservoir.  
The CM in his statement mentioned that the government of Madhya Pradesh is making efforts to lower the water level in the dam and had opposed the filling of the reservoir and has requested the Narmada Control Authority (NCA) in New Delhi to request them to not proceed with filling the dam reservoir.
 
He concluded by assuring 'The Madhya Pradesh government will sincerely endeavour to keep the gates of the dam open and strive for a stay on the decision to fill the reservoir completely'.
The next meeting with officials of the Narmada Valley Development Authority (NVDA) and activists of Narmada Bachao Andolan (NBA) is scheduled on September 9 to discuss further to support the affected families and open the gates of the reservoir.
Nearly 162 villages have been flooded which will threaten the lives of 32000 families if the gates are not opened.
Courtesy: Two Circle